Guest of honor
Aimee Blackschleger
---
Guest of honor :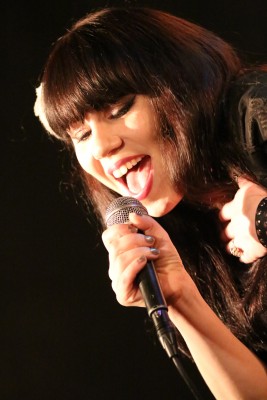 Hello everyone,
Here is our guest of honnor: Aimee Blackschleger!
Aimee has sung main theme songs for a variety of anime such as: Kill la Kill, Guilty Crown, Attack on Titan, Aldnoah Zero, as well as many others. She has also recorded songs for Japanese television drama themes and TV commercials (Toyota, LUX shampoo). She has a strong fan base from game music also, as she is the female singing voice on several KONAMI soccer game themes.
---
Cosplay Guest :
Darkarnival Butler
Winner of the canadian's qualification of World Cosplay Summit and Canada's representative at WCS 2016.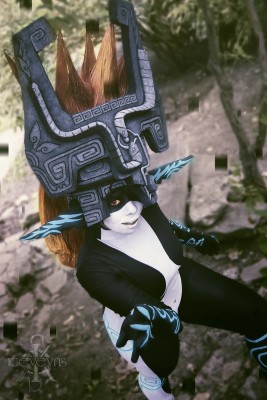 Cosplayer Darkarnival Butler discovered cosplay in 2011 through her friends. She who once planned more than a year in advance her costumes for Halloween has quickly developped an interest in this fascinating hobby allowing her to embody her favorite fictional characters more than once a year. In 2012, she began to be interested in masquerades which for her is a perfect way to share her passion with others while having fun on stage and in the green room. It is also thanks to the efficiency and the quality of her presentations and interpretations in masquerades that she gradually managed to reach the level of international master. Bachelor in Visual and Media Arts, Darkarnival loves working with her hands on original and good size projects and she stands out for her patience and attention of the details. A good example would be her Tooth Fairy cosplay (The Rise of the Guardians) in which she has often been seen in conventions. In summer 2015, during the canadian qualifications for the World Cosplay Summit, she partnered with Nienna Surion to form the team "Nienna Karnival". Together they won the victory and will be representing Canada at the WCS grand final in Nagoya, Japan, in summer 2016.
Page Facebook: Darkarnival­Butler
---
Nienna Surion
Winner of the canadian's qualification of World Cosplay Summit and Canada's representative at WCS 2016.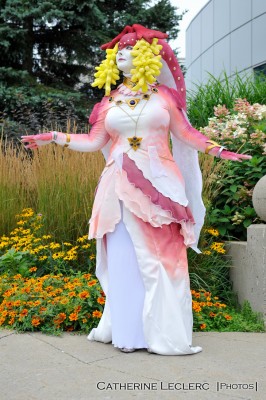 Nienna Surion came from Cap-Santé, a tiny town near Quebec city. As a young girl, she always enjoyed dressing up as any kind of characters to play as them, event out of Halloween day. In 2009, she discovered online an event: the Cosplay Imaginaire, at Place Laurier. She gave it a try. It was love at the first try and wanted to go to more events like that. Her mother helped her to learn the sewing basis, and after, she got experience with her own will by crafting-sewing costumes for her friends. She got her first award at Otakuthon 2013 with a team of 4 members she made (from the movie Princess Mononoke). This experience was so satisfying and fun, she decided to continue and enter all the cons and masquerades possible she could attend to. Step by step, she impressed judges with her work and become a Master level cosplayer on 2015. That same year for Otakuthon 2015, she teamed up with one of her best friend, Darkarnival Bulter who is an amazing cosplayer. They wanted to do a cosplay team for the World Cosplay Summit Canadian Preliminaries. Their costumes from Legend of Zelda Twilight Princess and their cute-funny-spicy presentation had a really great impact on the judges and they were crown as the first complete participant Canadian Team for the World Cosplay Summit 2016.
---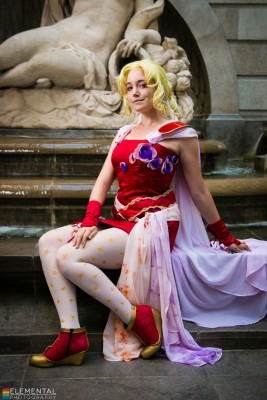 Miss Messy Mia
Winner of the canadian's qualification of World Cosplay Summit and Canada's representative at WCS 2015.

Miss Messy Mia is a cosplayer from Ottawa/Gatineau who first started the hobby in 2009 after attending a convention which sparked her interest in the hobby.  She has since created a large variety of costumes, constantly learning new techniques to help advance and hone her skills. She loves sharing her hobby with other and help those around her when she can.  She loves participating in masquerades and has won many awards,most notably, she and her teammate Niq Cosplay/Detailed Illusion won the first Canadian Representatives at World Cosplay Summit.
---
Niq Cosplay / Detailed Illusion
Winner of the canadian's qualification of World Cosplay Summit and Canada's representative at WCS 2015.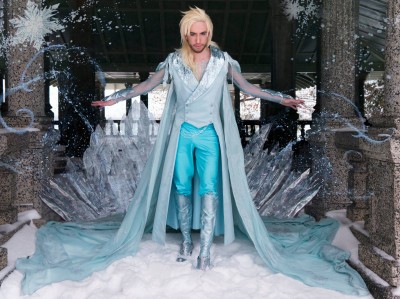 Niq van der Aa, known online as Detailed-Illusion, is a cosplayer and costume designer from Ottawa, Ontario. He has been cosplaying since he was 14 years old. In high school, Detailed-Illusion studied theatre where he ended up focusing on backstage work as a set and costume designer. After high school, he toured a theatre show to the Edinburgh Fringe Festival in Scotland, for which he was both costume and set designer, as well as a performer. Since, he has dabbled in Fashion Design school, worked as a costume designer for an independent film project, and of course continued to go to as many cons a year as he can, creating plenty of new costumes for the events. He has worked his way up the ranks, entering masquerades in America and Canada, and is now a master level cosplayer. He considers his specialty pattern drafting, detailed sewing, and accessory work. As part of team "Detailed Mess" (cosplaying Fai D. Flowright and Sakura from Tsubasa) has won the first World Cosplay Summit Canadian preliminaries and will represented Canada along with Miss Messy Mia during WCS 2015 in Japan. His most notable awards in the Masters category were for Best Reinterpretation for his Genderbent Elsa (Costume-Con 32, 2014) and Best in Show for his Thranduil (Pop Expo 2013).
---
Special guests :
Etienne « Dez » Desilets-Trempe


The man behind the Frivolesque webcomic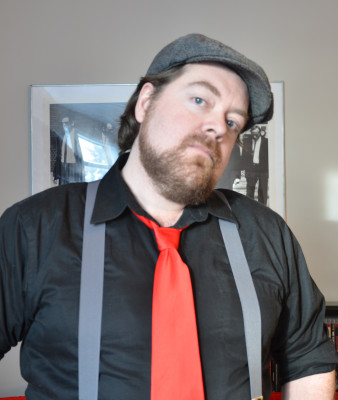 Etienne Desilets-Trempe, better known as Dez, is the creator of Frivolesque, a webcomic updating weekly launched in 2013.
Country-raised, and currently based in Quebec City, Dez is into comics of all kinds, cinema and video games. He also loves to take part in various geeky events.
Now drawing again after a decade-long draught of inspiration and motivation, Dez decided to start working on a personal project to snap out of this dry spell. Inspired by his city, the geek subculture he's proud to be part of and the people in it, he created Frivolesque, a webcomic in the vein of humorous Japanese "4-koma" style manga (Azumanga Daioh, Lucky Star, K-On) showcasing the everyday life of five quirky girls, each one of them being an evolution of older character designs Dez drew along the years.
Since then, he just can't stop, and his biggest wish is to help anybody else with a creative mind to get out there and achieve something.
His webcomic :
frivolesque.com
On social networks :
www.facebook.com/frivolesque
twitter.com/OmegaDez
dez26.deviantart.com
---
Daniel Amsler
DJ and judge for Nadeshicon Idol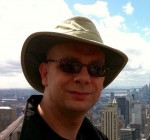 He began working with Extreme Anime Radio in 2010 as a DJ under the on-line name of NefCanuck when I began the show Background Noise, a weekly program focuses on literal "background noise" found in various Animes. Background Noise focuses mainly on Anime OST (Original Soundtrack) music as well as some unique remixes.  I also act as a host for the weekly Request Show as needed.
---
Orchestre portable de jeux vidéo
Symphony of the virtual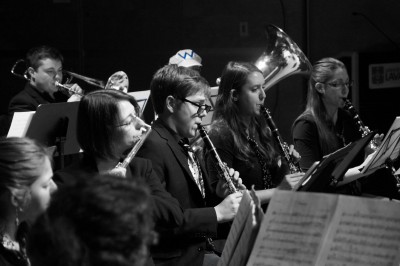 L'Orchestre portable de jeux vidéo (OPJV), conducted by Sébastien Wall-Lacelle, is composed of fifteen musicians and offers music lovers a unique experience. As is name suggests, the OPJV is dedicated to video game music. From classics such as Mario and Zelda to more recent games like Kingdom Hearts and Skyrim, the OPJV explores a total of thirty years of music that takes its public through the most epic and moving memories they have of video games. Being a smaller ensemble, the OPJV offers its fans not only an orchestral experience, but a more intimate event than a typical orchestra concerts. All the music has been rearranged in order to create a much more personalized experience. The OPJV concerts offer an occasion not only to discover video game music for those who have not discovered yet, but also bring a whole new way of performing the most known video games themes
"Orchestre de jeux vidéo" website (French)
---
Con Turnabout
Turnabout: The last air bender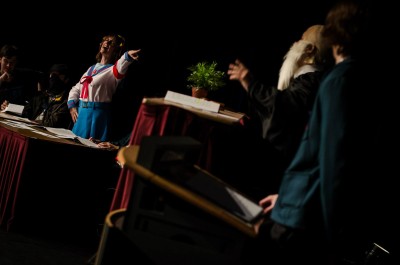 From 2010 onward, the Con Turnabout troupe has been presenting an interactive stageplay that mixes the Ace Attorney universe to that of other video games or animes. With the help of talented actors, writers, directors, multidisciplinary artists, and a horde of passionate fans, the troupe offers a unique experience.
In order to solve the cases' mysteries, a few spectators are invited on stage and asked to use their sense of deduction to assist our lawyers. With over 17 different scenarios under their belt, Con Turnabout is innovating once again; this year with a new and improved formula outside of the courtroom. For the first time, you will be able to assist in a pre-trial event where you will have to put together your wits and knowledge to assist with the investigation! Participating in this event will surely improve your chances at getting a "Not Guilty!" verdict when you show up in court.
This year at Nadeshicon 2016, it will be Aang, the last airbender's turn to be put on trial. Will you be able to clear Aang of Katara's murder charges and prove yourself worthy of the legendary defense attorney Phoenix Wright?
---
Yukio Kobayashi
Aimee Blackschleger's manager


MUSIC and ART agent KOBAYASHI YUKIO, started his music career as a Shinko Music Entertainmen staff member. After learning the business there, and managinig artists such as: 本田恭章(HONDA YASUAKI),レベッカ(REBECCA),NOKKO,ICE,藤井フミヤ(FUJII FUMIYA, he formed his own artist management company called "3rd Stone From the Sun." Some of the best names in Japanese rock have been managed through his agency: SUPER JUNKY MONKEY,PIZZICATO FIVE,THEATRE BROOK, 小島(KOJIMA), 髭(HiGE), tobaccojuice, 阿部芙蓉美(ABE FUYUMI), MAMADRIVE, PRAGUE, and BO-PEEP. He also managed several artists: 切り絵作家望月めぐみ(paper cutting artist MOCHIME), 写真家美島菊名 (art photographer MISHIMA KIKUNA), Little Woody(designer). Now serving as a music and art business consultant, he has begun a new company called "9 to the Universe," which coordinates events, showcases, and also coordinates partnerships between artists, performers and the venues and distributors. He also has a digital distribution label: FLIGHTPATH.
Flightpath: http://www.flightpathrecords.com/
9 to the Universe: https://www.facebook.com/9totheUniverse
---
Victor Albisharat
Convention organiser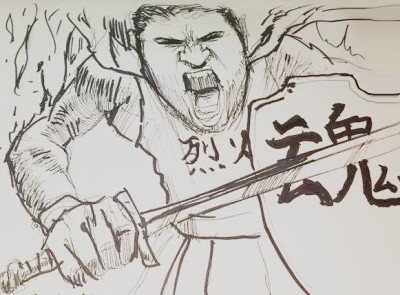 Nuclear Operator by day, Convention Runner by night – and weekends of course! Victor Albisharat is a Canadian convention runner with over a decade (that's 70 in con years) of convention running experience at conventions in both Canada and the US, east coast to west coast at various levels from regular staff, to department head, and even the Board of Directors at one of the largest and most well-known conventions. Not only does he help in running events, he also assists with one of the largest international con runner organizations – WRAC (We Run Anime Conventions) as well as its sister group WRC (We Run Conventions) – organizations dedicated to bringing together convention runners from around the world to support each other. While not running conventions, Victor helped run nuclear reactors, working at the world's largest operating nuclear facility, Bruce Nuclear Generating Station*. His current role is the analysis and investigation of events that occur in the industry, both internally and externally. Through his experience in analyzing relevant information from the Fukushima Daiichi incident in 2011, he has been a part of panels about the accident at various conventions including Otakon and Anime North where he explores what happened, how it happened, and the various issues surrounding the response to the event.
Credits to Naoyuki Asano for the sketch.
* – not an official representative of Bruce Power while conducting panels, just a statement of work and experience.
---
Droo
Photographer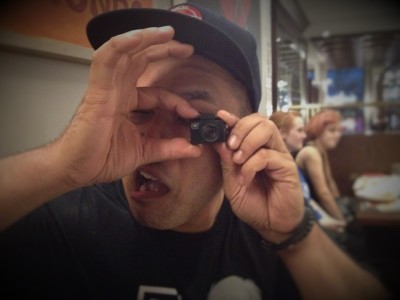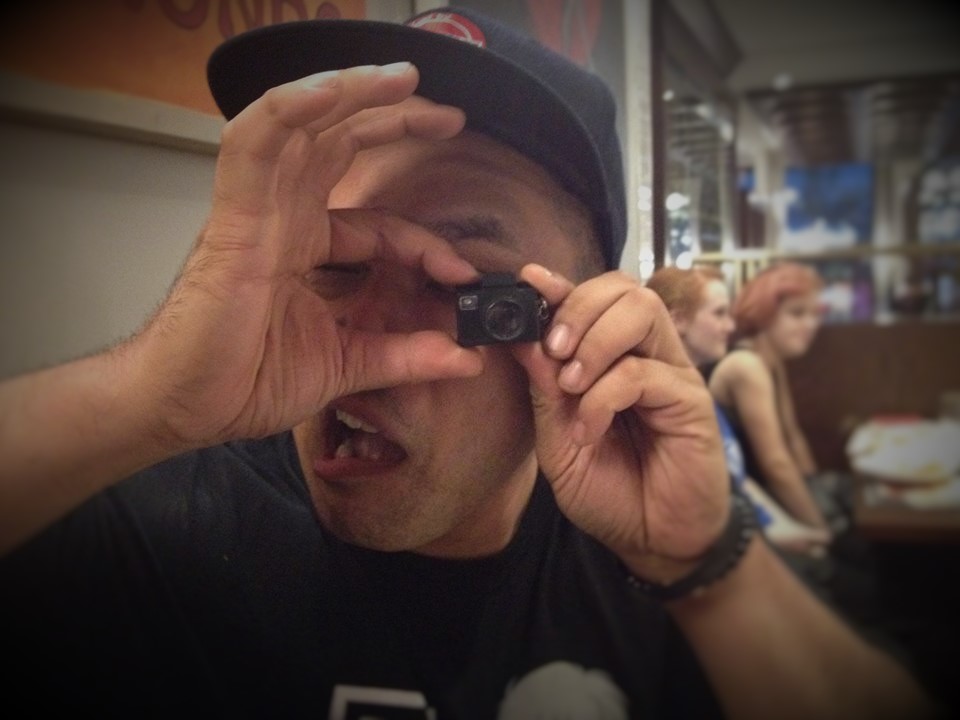 Since 2008 Droo has been capturing the art of cosplayers at his mobile studio at conventions. If you've ever visited his "funtograpy suite" you will be pleasantly greeted with his passion, enthusiasm and energetic appreciation for cosplay. Wanting to give back to the thousands of cosplayers that he's befriended since his humble beginnings, Droo has created the facebook groups "Cosplay~It Unites Us" and "Cosplayers of Canada" which are sources of sharing, positivity and social interaction for the cosplay community.
---
Fingers
Panelist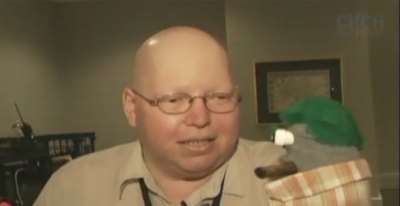 Hooked by a giant alien fighting monsters in rubber suits, has then progressed to British Cult TV, SF, Anime, International Animation and assorted fandoms culminating in running the panels tracks at two anime conventions and being a GOH for the third time. Was seen pushing anime at SF conventions, SF at Anime Conventions, Anime and SF at medieval gatherings and bashing Voyager absolutely everywhere. Warning, Filks, puns and gives backrubs, approach at your own risk.
---
DrDave
Panelist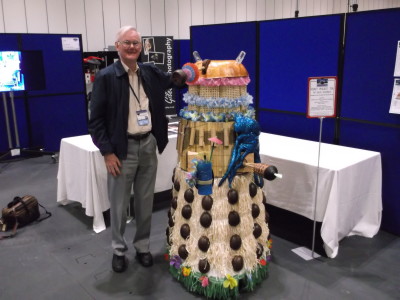 David Stephenson is a space physicist who came to Canada from the U.K. in 1970 and studied the aurora and winds in the high atmosphere at the University of Saskatchewan. In 1979 he moved to Germany to build systems for a deep space probe. When the project was cancelled he became the Schmitt Fellow at the University of Newcastle in Australia. He spent a year as a consultant for space insurance in London before returning to Canada to join the Geological Survey of Canada. When the government sent his file to the 'downsized drawer' in 1996 he moved to the village of Merrickville near Ottawa. He worked occasionally for a start up hi-tech company in Ottawa until 2009
His publications include reviewed papers, commentaries in the Interdisciplinary Science Reviews, various articles and reports and the 'Ulysses Speaks' satirical column in "Canadian Research." He has been a guest panellist and lecturer at science fiction and anime conventions for over 25 years.
---
Cultural Guests :
Ryoko Itabashi
Traditionnal musician with great talent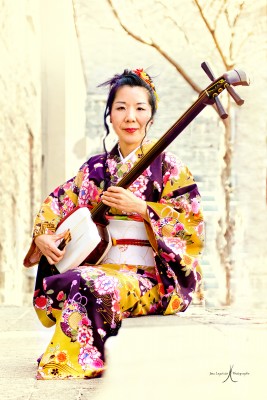 Ryoko Itabashi was born in Japan and has been involved in music since childhood. Early on, she played violin and piano, but found her true calling in traditional Japanese instruments. The first of these was the Japanese Drum, or "Taiko", which is played with an ensemble in a dynamic and vigorous style requiring significant physical strength. Shortly after beginning Taiko, she also began playing the bamboo flute, which often accompanies Taiko. Ryoko began learning the Tsugaru Shamisen in 2001 under the late Rinshoji Kida, who was a well-known Shamisenist. Since moving to Canada in 2009, Ryoko has been playing all the traditional instruments at various venues in Canada. Ryoko's goal is to continue to fulfill her lifelong dream of sharing Japanese music and culture with the world.
---
Ryunosuke Yamazumi
Japanese Juggler

Ryunosuke, an extraordinary Japanese circus artist who is specialised in big ball juggling, chinese pole and antipodism with puppets.
Ryunosuke has been performing his sensational acts for galas, circus companies and variety of festivals of all over the world : in Canada, Germany, UK, USA, Russia, United Arab Emirates, Australia, Belgium, Africa, Malaysia and Japan.
"Big Spectacle of Ryu and Anastasia" is a humoristic show including technic of Chinese pole, juggling, antipodism and hand to hand with puppets.
Ryu, a strong man found an excellent flyer known as « Sexy Anastasia »…
---
Komachi Montréal
Japanese Dance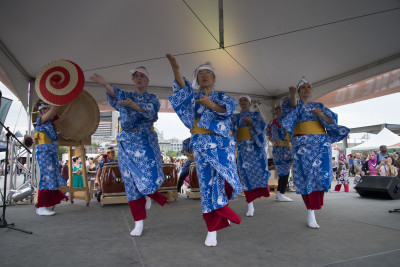 Komachi Montréal is a Japanese folkloric cultural dance group that was created in 2007. They mainly perform in the Montreal region, but also in Québec, New-York and Ottawa. The purpose of their show is to make you live great moments through Japanese traditional dancing and taiko (a Japanese drum) performance. They will also share their passion for dancing with you by presenting a small workshop about Japanese dancing. Come in great numbers to share this festive energy and dance with them!
---
Association de Chado Urasenke Tankokai
Tea ceremony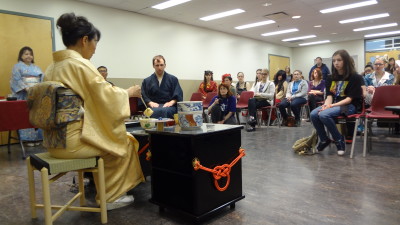 Our association has been a member of Tankokai, a non-profit organization from Kyoto in Japan, since June 2011, and our mission is to show and share the Way of Tea (chado).
The Way of Tea
Worldwide, tea is very popular, but there's no country with as much cultural richness as Japan when it comes to it. In Japan, the way a cup of tea is prepared as been especially refined through cultural and aesthetic development. Many masters contributed to Japan's cultural development thanks to the Chado (the Way of Tea). Among them, Sen Rikyu (1522-1591) accomplished a synthesis of the different ways to drink tea, with a brilliant aesthetic and a remarkable devotion to the achievement of the Chado. The Chado is designed as a lifestyle, resulting in a real work of art, contributing to the artisanal development of Japan, but also developing the day-to-day life. Now that modern progress and mechanization save men from doing the toughest tasks, the time and the energy required for the preparation of a cup of tea might seem useless. But a cup of tea prepared following the Chado principles is a ritual destined to restore its inner tranquility, a basic need of the human being. This is a ritual of simplicity and sobriety in which everyone can find "inner peace in a cup of tea".
---
Media Guests:
Luduc
Reporter, video podcaster and mini-wheat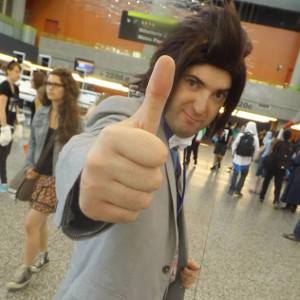 Since 2011, Luduc has been known as being a reporter who tours from convention to convention. This video-podcaster has more than 50 active interviews and 2 webseries and a podcast. Luduc has interviewed many celebrities such as Jonathan Roberge, Nostalgia Critic, Didier Lucien and Ross Mulan.
Sharing with us their more "intimate" side. Regardless of what he has accomplished so far, Luduc has one sole mission: comparable to a miniwheat, he wants to offer both the comedic and the educational sides of every interview
Luduc Live's Facebook Event page!
---
Martial Arts
Represented clubs

Coming Soon!