Special guests
Patricia Legrand and Léa Gabriele
This year we'll have the honor of receiving two women who marked the childhood of many of us! They come straight from France and they personified the French voice of Sakura and Tiffany (Tomoyo) in Cardcaptor Sakura : Patricia Legrand and Lea Gabriele!
Patricia Legrand website
Wikipedia : Patricia Legrand | Léa Gabriele
Pierre Nadeau
blacksmith
Born in Montréal, Pierre Nadeau visits various fields, studying and working in photography and management. In 2002 he decides to visit Japan with the hope of experimenting its culture on a first-hand basis. A stay that was intended for a few months turns into a full chapter in his life : Pierre comes back to Québec in 2011 with valuable assets and a more focused will. After discovering traditional swordsmithing on the day of Christmas 2002, Pierre only entered apprenticeship in January 2006 under a young smith from Wakayama. Five and a half-year of ups and downs marked the Québécois' adventure. Pierre is the only non-Japanese after the late Keith Austin to have completed apprenticeship. Only missing is the test, expected to be taken in 2013, to be considered a fully-fledged member of the intimate Japanese swordsmiths community.
He comes back to Canada to take over the helm at Les Forges de Montréal, an NPO dedicated at preserving the traditional blacksmithing heritage, with founder Mathieu Collette. There he builds his forge and operates Les Forges' new high-furnace : practice, research and hard work just begin.
SoulSmithing
Plus d'information sur M. Nadeau
Ryoko Nakajima
pâtissière
Ryoko Nakajima graduated at the prestigious culinary school Tsuji in Tokyo. She received her tutalage of wagashi from a master and she traveled through Europe to study chocolate. She visited France, Belgium, Switzerland, Italy and Austria. She opened her first chocolate shop at the high class Ginza district in Tokyo. The elite quickly become her daily clientèle. She helped the master chocolatier Jean-Paul Hevin to open a branch of his eponymous chain of chocolate shops and was employed as a consultant and adviser in many restaurants. After moving to Quebec, she has produced desserts for the restaurant Ginko where she created a dessert specifically for former Governor General Michaelle Jean. During the last two years she has traveled abroad to develop new desserts. She has acted as consultant for many companies, from the traditional ryokans to luxory hotels. Since returning to Quebec in late March, she wishes to share the wonders of Japanese traditional sweets to Quebecois.
Maxime Chouinard
Maxime Chouinard has been studying martial arts for over 13 years, and kenjutsu (art of the sword) for nearly 10 years. He teaches in Québec the Toyama Ryu and the Hyoho Niten Ichi Ryu styles. His passion for the martial arts lead him to be interested in traditional swordsmanship and its history in Japan. Maxime holds a bachelors degree in archaeology at Laval University and is currently completing his masters degree in Cultural heritage and Museology at Deakin University in Melbourne all the while working as a conservator at the Morrin Centre in Quebec.
The Quebec Kenjutsu club offers kenjutsu courses at the St-Sacrement recreation center every Tuesday and Thursday from 8:00 P.M. to 9:30 P.M. . They teach Japanese classical fencing (koryu) as well as the associated principles.
During the 2012 edition of Nadeshicon, Mr. Chouinard will be the organizer of the gathering of many martial arts groups that will do demonstrations at our festival.
Our martial arts guests are :
Dojo de Beauport
Aikibudo : Daniel Tabouret
Tenshin Shoden Katori Shinto Ryu : Maxime Tremblay
Iaido : Olivier Bordry
Judo : Patrick Roberge
Bujinkan Québec
Bernard Grégoire
Club de Kenjutsu de Québec
Maxime Chouinard
Club de Shinkendo de Québec
Pascal Landry and Dave Bouillon
Ryunosuke Yamazumi
juggler

Ryunosuke, an extraordinary juggling artist from Japan, took an immediate shine as a juggler from a young age. Ryunosuke had a highly successful juggling career from a young age that is shown by winning a Silver Medal at Japan Otedama Championship and a Gold Medal at MJF Junior competition. Fascinated by circus, he began to study all performance-related arts. Later Ryunosuke, as the first Japanese man, got into Quebec Circus School where he created his ingenious "Big Ball Juggling" act. Ryunosuke has been performing his sensational juggling act for galas, circus companies – such as Cirque du Soleil, Cirque Saoufet, Luna Caballera and Cirque Kalabanté – and variety of festivals of all over the world : in Canada, Germany, UK, USA, Africa and Japan. He won the First Prize in Extreme Talents 2009 in Amos, Canada. His act was also selected until the Semi-Final in The Next Big Thing in UK. Ryunosuke continues to leave his audience of all ages roaring using no less than FIVE big balls.
Richard Fournier
poet, writer, journalist, sociologist and haïkiste (haiku writer)
http://recif.litterature.org/recherche/ecrivains/fournier-richard-1343/
Since 1988 has written essays, poems and short stories in many magazines throughout Quebec or in France. He published 'Dunes de Tanakra', poems (Faye, 1999), Une atmosphère américaine, nouvelles (Carte blanche, 2007). Author of literary tales, we heard him live at Moulin du portage and CHOQ-FM, Montreal ; in a poetry recital in Quebec City ; Aux oiseaux de passage, at Studio P, at Café Babylone, at the Museau of Civilisation, at Bar Sainte-Angèle, at l'Agitée. Received a special prize from the jury at the event Les obsédés textuels, Printemps des poètes de Québec 2011.
Charles-Henri Bouchard
Born in Ste-Anne de Beaupré in 1930, studied at the seminary Saint Alphonse, entered the Redemptorists in 1950, BA es arts of Laval University in 1952.  He optained his Priestly Ordination in 1956.  Afterwards, he became missionary and went to Japan in 1958, where he received an MA in religious sciences in 1966 from Saint-Paul's University in Ottawa.  He then continued to be priest for many Parishes, became director of Kindergarten and member of the Ecumenical Bishops' Commission for seventeen years.  He was also responsible to form Redemptorist seminarians for eight years and wrote pastoral articles.  He then returned to Canada in 2004 and since then, has been working at the Ste-Anne de Beaupré pastoral and is preparing an essay on Japan and the Gospel in a Buddhist country.
Bernard Grégoire
Present in the world of martial arts for over 36 years, Shihan Bernard Grégoire is 6th Dan in karate Kempo and 15th Dan in the Bujinkan style of Master Hatsumi. Kung-fu, kali, tai-chi, etc, he trains in many different other martial art styles. He visits Japan bi-yearly to continue his training under the supervision of Soke Masaaki Hatsumi.
Teacher in industrial and commercial security at the Cegep FX Garneau, Bernard Grégoire is also senior instructor for the police baton, cuffing, in pressure points and many other disciplines related to the world of security. He has trained instructors which now operate in France, Belgium, Germany, Spain and a few other countries.
Kayo Yasuhara
Kayo Yasuhara studied theatre at the Tamagawa University in Tokyo, Japan, Kyogen Izumi-ryu and Noguchii taiso (a style of Japanese gymnastics) with Mr. Yukou Ishizuka, and Kabuki dance with Isaburo Hanayagi. She got her Bachelor of drama art in 1990.
Between 1990 and 1992, she performed in Japan in theatres, television programs, comic shows and an opera. Since 1996, she has performed Japanese kabuki style dances (that she choreographed herself) and sung Japanese songs several times in Montreal and around the province of Quebec at different Japanese cultural events. In 2000, she joined the Montreal Japanese percussion (taiko) group 'Arashi Daiko', as well as taking singing lessons with Mr. Ivon Claude of the Studio Orphee of Montreal. In the summer of 2006, she travelled to Japan to take lessons in Japanese folk dances with Mr. Shohei Kikuchi, president of the Japanese dance organization 'Manyoshu,' in the prefecture of Akita in North Japan. She joined the Matsu Take Ensemble for which she dances, sings, plays the taiko in 2006.
Michel Mantah
Our guest studies and practices Zen Calligraphy since 1991 and practices daily since 2001. In 1993, a visit to the Engakuji Temple (円覚寺) in Kamakura, Japan gave a confirmation of his practice and gave him the necessary inspiration to keep on practicing the Way up to this day. Using the brush is first practiced with simple lines and shapes, allowing the student to experience how the brush is guided by the life energy, the act of writing becoming harmonious.
---
Musical guests
HOSHI★FURU   Facebook page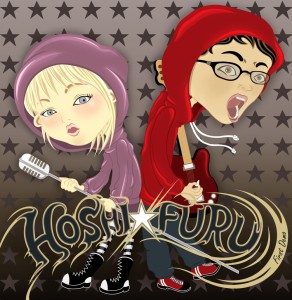 HOSHI★FURU is a rock band from the GTA, Ontario, Canada heavily influenced by Japanese pop and rock. Formed in 2008, the band's line-up consisted of vocalist Maria, guitarist Nan, bassist Roma, keyboardist Kayla, and drummer Peter. Most of the year contained little to no activity from the band apart from a performance at Northern Anime Festival in Oshawa, Ontario. Eventually, Kayla, Peter, and Roma would depart, leaving HOSHI★FURU as a duo.
In 2009, the duo released their first demo entitled "First Demo CD" and then re-recruited Roma (now on guitar) and drummer Umar. As for a bassist, the band went through support members for live performances while Nan performed the duties on recordings. Notable appearances from this year include live performances at Dotcon in Mississauga, Ontario and Night It Up! in Markham, Ontario.
In 2010, Roma and Umar parted ways with the band, which once again left HOSHI★FURU as a duo. The duo was only able to release one demo entitled "Sono Hibi Deshita", which featured ex-member Peter performing the guitar solo.
In 2011, the duo released two demos ("Ne" and "Yorokobi Jinsei") early on in the year and then spent the rest of it inactive until November where they made a successful comeback at N2U in Ottawa, Ontario.
Fireflies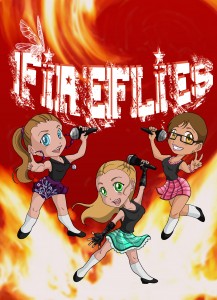 Four talented girls are giving you a singing performance on the theme of anime music. This colorful music show will last about 30 minutes. Hope to see you there! The group is made of two G-Idol winners 2011 and 2012, Clara Michaud and Moegan. A winner from the Jump Start Idol 2011 contest, Mink will also be participating with their one of their friends, Vilma Avila.