Guests of honor
Matt Greenfield and Tiffany Grant
Cultural guests
Komachi Montreal
Ryunosuke Yamazumi
Arisa Meguro
Richard Fournier
Matsu Take Ensemble
Danse butô
Chado Urasenke Tankokai du Québec
Sabrina Cloutier
Charles-Henri Bouchard
Still more to come!
---
Special Guests : Matt Greenfield and Tiffany Grant
Matt Greenfield
Dominant figure in the industry and co-founder of ADV FILMS!
With over 1000 films and TV episodes to his credit, Matt Greenfield has been writing, directing and producing both animated and live-action programming (plus the occasional comic book) since the dawn of time. His work has been distributed internationally by–among others–ADV Films, Anime Network, FUNimation, Happy Carrot, Madman Entertainment, Maiden Japan, Media Blasters, Sentai Filmworks, Section 23, SoftCel Pictures, Switchblade Pictures and Syren. Born in California, he escaped at an early age and spent his formative years wandering the country, absorbing cartoons, science fiction novels and horror movies like a sponge–knowledge he now squeezes out with a modified colander in order to make a living.
Married to the lovely and vivacious Tiffany Grant (who proofed this bio), a VERY brief list of career highlights includes NEON GENESIS EVANGELION, BATTLE ANGEL, GAMERA: GUARDIAN OF THE UNIVERSE, the Godzilla classic DESTROY ALL MONSTERS and hundreds of other anime hits like BUBBLEGUM CRISIS: TOKYO 2040, EXCEL SAGA, GANTZ, GODANNAR, GOLDEN BOY, GUNSMITH CATS, MACROSS, NADESICO, NOIR, SPRIGGAN, PRINCESS NINE and RAHXEPHON.
And that's not counting managing distribution of such mega-titles as Gene Roddenberry's ANDROMEDA & EARTH FINAL CONFLICT, BEASTMASTER, MEGAMAN, MUTANT X, REBOOT, ROBOTECH, SHADOW RAIDERS/WAR PLANETS, SAILOR MOON, SONIC THE HEDGEHOG, STREET FIGHTER 2 (UK) and…we're running out of space, so we'll end it with some of his most recent projects: TEARS TO TIARA, BLUE DROP and more cool stuff TBA!
Contrary to rumor, his favorite hobbies are NOT eating babies or torturing voice actors (although the latter does make his top ten).
---
Tiffany Grant
American Voice Actor!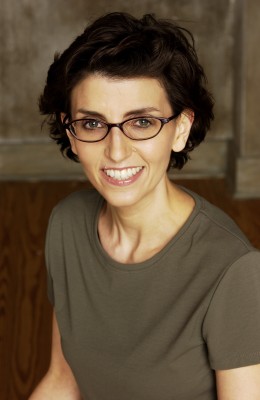 Tiffany is excited about her first visit Quebec City! Best known as the English voice of Asuka in NEON GENESIS EVANGELION, Tiffany was the first anime voice actor hired in Texas [Feb. 1994].
She has now voiced characters in 1000+ TV episodes, OVAs & movies including AZUMANGA DAIOH (Kaorin), CHRONO CRUSADE (Satella), BLUE SEED (Kome), GOLDEN BOY (Madame President), FMP? FUMOFFU (Bonta-kun), GODANNAR (Shizuru), FULL METAL ALCHEMIST (Marta), MABURAHO (Kuriko), ONE PIECE (Nojiko), THE WALLFLOWER (Auntie), NOIR (Altena) and TSUBASA RESERVOIR CHRONICLES (Ashura). Video game credits: UNLIMITED SAGA, DEUS EX II: INVISIBLE WAR. Recent projects include INFINITE STRATOS, BOOK OF BANTORRA and MAJIKOI.
Ms. Grant has adapted English dubbing scripts for 200+ TV episodes such as ANGELIC LAYER, HELLO KITTY'S ANIMATION THEATER, TEARS TO TIARA, AH! MY GODDESS 2, THE WALLFLOWER and the live-action Korean film JUNGLE JUICE. She also penned English subtitles for projects including MIYUKI CHAN IN WONDERLAND and the live-action TOKYO – THE LAST MEGALOPOLIS.
Additionally, Tiffany contributed to the albums "Voices for Peace" and "Voices for Tolerance" www.voicesfor.org. CDs and downloads are available at www.cdbaby.com and iTunes. All profits benefit charities like Doctors Without Borders.
Non-anime work includes ARLINGTON ROAD (with Jeff Bridges) and locally produced independent films LAUGHING BOY, DEAD OF KNIGHT and LARS THE EMO KID. Tiffany has years of experience in theatre and commercials and an incurable Hello Kitty addiction. For more, visit http://tiffanygrant.eva-r.com
---
Mel Gosselin
Cosplayer and Writer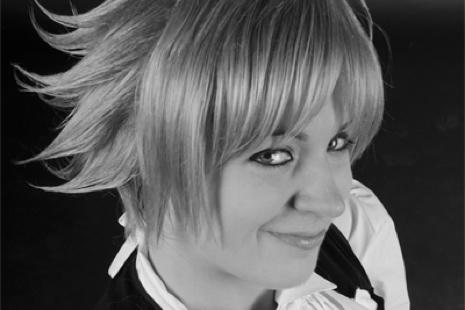 A native of Rimouski, Mel Gosselin is first and foremost a fan of mangas and video games. Author of the novel "Cétacia", which won the Desjardins Arts and Culture Award in 2012, Mel Gosselin does not hide the fact that she heavily immersed herself in the dynamism and pacing found in Japanese animation series to create her story, particularly those of Osamu Dezaki (Remi the Homeless boy [Ie Naki Ko], Lady Oscar [Versailles no Bara] …).
So far, Cétacia was very well received by the press and critics, both for its originality and well-crafted plot. "Le Journal de Montreal" has, among others, described it as "really puzzling, striking and unnerving but also very dark and sometimes shocking" while producer Rock Demers said it was "an ambitious story, well-built and keeps many surprises in store for us." Cétacia will soon be followed by a second volume which the author promises will be more mature, more shocking and should delight fans of yaoi.
Mel Gosselin's interview on TVA.
---
HOSHI★FURU
Rock band
HOSHI★FURU is a rock band from the GTA, Ontario, Canada. Originally formed in 2008, the band only began to put into action its plan of performing and promoting original music heavily influenced by Japanese pop and rock in 2012. The line-up consists of Maria on vocals, Nan on guitar, Nick on bass, and Danny on drums.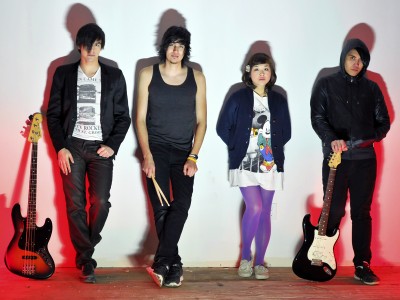 Although primarily influenced by Japanese pop and rock, HOSHI★FURU's music is also influenced by a variety of other genres such as hardcore punk, metal, and screamo.
HOSHI★FURU has been performing at anime conventions across Ontario and Quebec, including an appearance in Canada's premier fan-run anime convention Anime North in 2012. The band is set to release their debut EP on March 15th, 2013.
---
Love Cosplay Magazine
The cosplay passion magazine

We are more than just a magazine, we are artists, we are dreamers and a cosplay family.
Dedicated to all my fighting dreamers. – Droo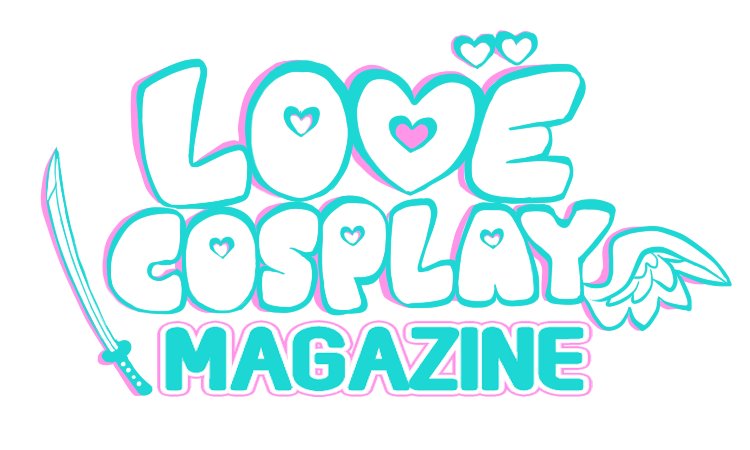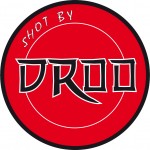 Love Cosplay Magazine will be a printed magazine of high quality. Making dreams into cosplay, for dreamers by dreamers. A magazine for cosplayers, by cosplayers. It will be packed with tips, "how to's", featured cosplayers/costumers from around the world and convention information. Do you Love Cosplay?
The man behind the magazine, Droo Chin, will be in the dealer's room during the festival to take photos of your most recent creations. Who knows, in a not-so distant future, maybe you will be part of his magazine…
---
Nadeshicon Turnabout
The interactive play!

Always wanted to be a lawyer? Always dreamed of defending celebrities during monster cases? If that's the case, your dreams might finally come true!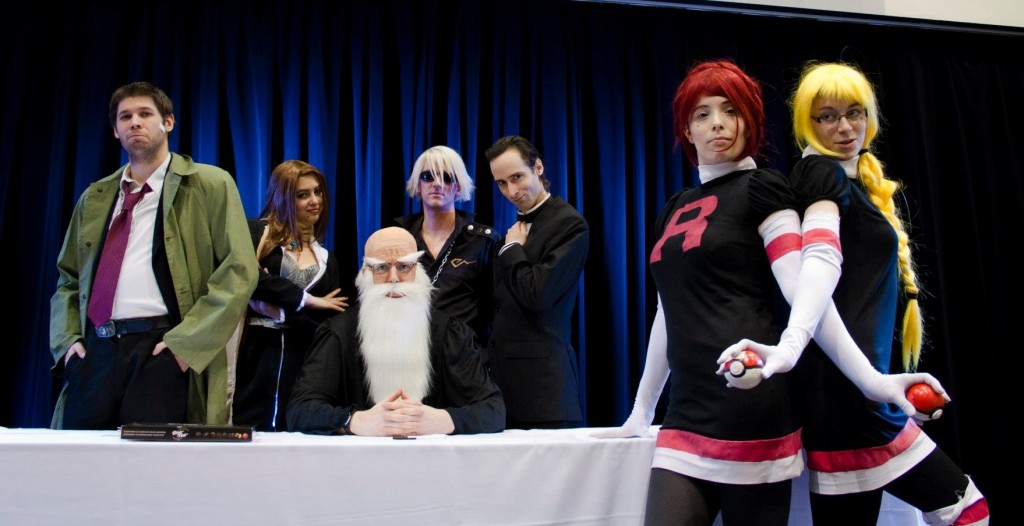 Ace Attorney: Nadeshicon Turnabout is an interactive play where participants from the crowd are invited to go on stage in order to assist the defense lawyer in defending his/her client. Inspired by Ace Attorney: Phoenix Wright, participants will be able to help Mia Fey against Klavier Gavin in many unpredictable turnabouts.
Come assist to our new Final Fantasy case!
Will you find the contradiction that will save the life of your client?
---
Nie-Chan
Cosplayer and photographer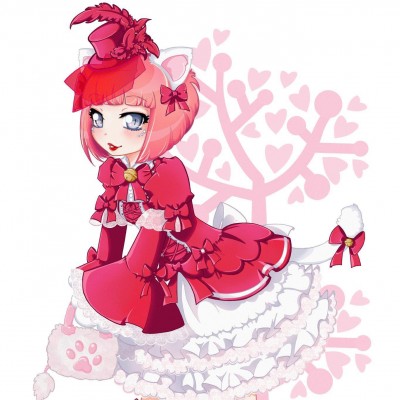 Annie Brassard, alias Nie-Chan, est surtout connue en tant que photographe, cosplayeuse et pour son amour pour la mode de rue japonaise. Vivant depuis plus d'une douzaine d'années dans la belle ville de Québec, mais venant du Saguenay, elle a toujours été passionnée depuis son plus jeune âge pour les mangas, l'animation japonaise et pour tout ce qui touche de près le Japon.
En 2010, elle est devenue, tout à fait par hasard, photographe cosplay et depuis ce jour elle offre ses services bénévolement lors d'activités et lors de conventions où le cosplay est à son honneur. C'est ça manière à elle de faire sa part pour que ces événements continus d'exister et afin d'émerveiller ses propres yeux de l'astuce et de la créativité des cosplayeurs.
Possédant sa propre entreprise de photographie depuis peu, elle fait de la photo pour pouvoir avoir un contact privilégié avec les gens. Avec sa photo, elle espère grandement montrer que la beauté est partout et que celle-ci peut apparaître de différentes façons.
---
Armurita
Cosplay guest
Cosplayer for more then 10 years now, Armurita is knowed for her attention to details and her workmanship techniques. We often associate her with resin which is one of her favourite medium and also for her expression ''put on some resin!''. She likes sewing as much as crafting and tries to try different style in costume, wanting to know more after each project.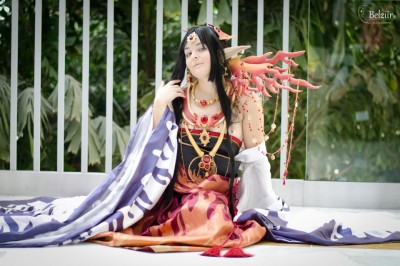 One to experiment, Armurita knows many diferent workmanship technics and loves to use uncommon materials. She also likes to give advice and help other cosplayers.
Now international master, Armurita already received many awards for her workmanship and her presentation on stage. She tries her best to present her costume in an original and artistic way. She also has been active on the cosplay community as masquerade director and judge. Since she got into it, there is no convention she isn't near the masquerade activities.
---
Melissa « Jusdepomme » Langlois
Cosplay guest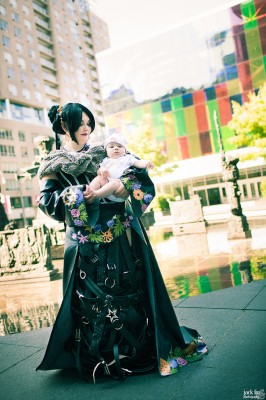 Melissa Langlois, aka Jusdepomme, discovered cosplay in 2006. She's recognized for her originality in masquerade performances that have pleased both audiances and judges alike, and have earned her multiple prizes. She loves costume embellishments (pearls, embroiders, accessories, etc), and the challenge of making a design come to life. She's now a cosplay mom and brings her baby boy with her whenever she can.
She is very active in the community and loves to help others with tips or during panels. Her goal is to promote cosplay and to help others get started in the hobby.
She has been a masquerade director and has judged several different masquerades. When she is not helping a masquerade, she's competing at the International Master level.
---
Karine « FrenzyWonder » Pasquier
Cosplay guest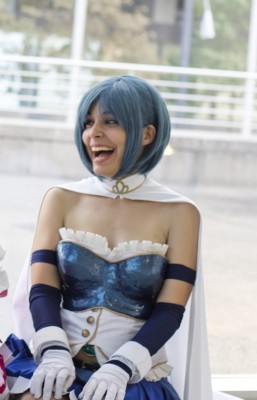 Karine Aka FrenzyWonder aka Derp for the close friends, proudly declares herself as a Master who doesn't take herself very seriously.
She counts over 65 costumes under her belt and around fifteen masquerade prizes. *And a little pat on the back.* Armed with little patience for appliques and sanding, it's with passion and Barbie movies that she goes on duty. Her costumes come from anime, video games, comics and other type of medias and this diversity is her greatest pride.
If you ever search for her in a convention, keep your ears open for the biggest source of noise, is it her natural energy or the can of Monster at her hand that causes this? Probably both.
Karine haunts and wanders convention for 7 years now and the masquerade for 3 years. And she is far from finished of terrorizing and amusing the crowds.
---
Komachi Montréal
Japanese Traditional Dance, Song and Music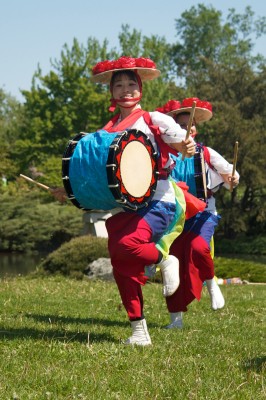 Kayo Yasuhara
Artistic Director and founder of Komachi Montreal
Kayo Yasuhara a étudié le théâtre à l'Université Tamagawa de Tokyo, au Japon. Elle a étudié les fascinants théâtres et arts de la scène japonaise que sont le Kyogen, le Kabuki, le Kodan, le Rakugo et le Taïko. Elle a étudié le Kyogen Izumi-ryu et le Noguchii taïso (une forme de gymnastique japonaise) avec Monsieur Yukou Ishizuka, et les danses de Kabuki avec Monsieur Isaburo Hanayagi. Elle a obtenu son baccalauréat en art dramatique en 1990.
De 1990 à 1992, elle a participé à divers pièces de théâtre, spectacles de comédie, émissions de télévision ainsi que joué dans un opéra. En 1992, elle a interprété le premier rôle, « Natsumi », de la pièce The Summer in Karafuto 1945 au théâtre Tsukiji Hongan-ji de Tokyo. Elle a aussi joué le rôle d'un samouraï adolescent, « Natsunoshin », dans la pièce Shimotsuki no Hoshi no shita de (Sous le ciel de novembre) au Studio Akashi de Tokyo. En 1994, elle prend des cours de chant populaire et jazz avec mademoiselle Linda Griffin, de « The School of the Natural Voice » à Los Angeles. Depuis 1996, elle interprète régulièrement des danses de style kabuki (dont elle est la chorégraphe) en plus de chanter des chants traditionnels japonais à Montréal et au Québec lors d'événements culturels liés au Japon. En 2000, elle joint les rangs de l'ensemble montréalais de percussion japonaise Arashi Daiko, en plus de prendre des cours de chant avec Monsieur Ivon Claude du Studio Orphée de Montréal. À l'été 2006, elle entreprend une formation en danse folklorique japonaise avec monsieur Shohei Kikuchi, président de l'association de danse traditionnelle japonaise « Manyoshu », de la préfecture d'Akita dans le nord du Japon. Ce sera au printemps 2006 qu'elle devint membre de l'Ensemble Matsu Také avec lequel elle danse, chante et joue de la percussion japonaise.
Website :
http://www.komachimontreal.com/
---
Ryunosuke Yamazumi
Japanese Juggler

Ryonosuke is an impressive Japanese juggler. He found his way into juggling at a very young age. This enthusiast man has a flourishing juggling career that is always renewed by new successes. He won a silver medal at the Japan Championship Otedama and a gold medal at the Tokyo MJF Junior Competition. Fascinated by the circus, he also customized his art with dance and theatre. Ryunosuke is the first Japanese to attend l'École de Cirque de Québec where he created his famous juggling specialty act with balloons.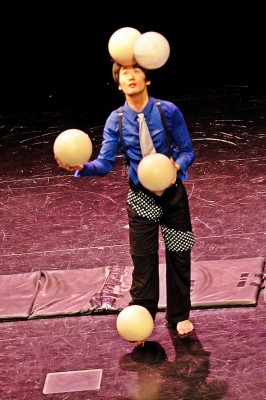 He presented this outstanding act for galas, for circus companies and in numerous festivals all around the world: Canada, Germany, United Kingdom, Belgium, United States, Africa, Australia and Japan. This artist still raises everyone's applause and satisfaction by juggling with FIVE big balloons. He also won the Talents Extremes 2009 contest and won the second prize at the Zoink'd TV show in Canada.
---
Arisa Meguro
Japanese contortionist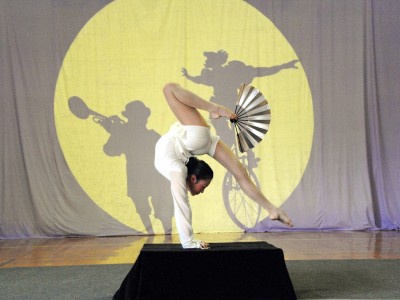 Arisa is one of the few contortionists in Japan. In fact, she's the only one practicing this art.
During her performance, you will be surprised by her flexibility, smooth motion and strength!
She's currently a student at the Circus School of Quebec, where she perfects her discipline and grows rich of a number of valuable discoveries and experiences.
---
Richard Fournier
Poet, Writer, Journalist, Sociologist and Haikist (haiku writer)

Since 1988 has written essays, poems and short stories in many magazines throughout Quebec and France.
He published :
Dunes de Tanakra
poems (Faye, 1999)
Une atmosphère américaine
nouvelles (Carte blanche, 2007)
Author of literary tales, we heard him live at Moulin du portage, at CHOQ-FM and at Radio Centre-Ville in Montreal. He also done poetry recitals in many places around Quebec City : Aux oiseaux de passage, Studio P, Café Babylone, at the Museum of Civilisation, the Bar Sainte-Angèle and finally at l'Agitée.
He received a special prize from the jury at the event Les obsédés textuels, Printemps des poètes de Québec 2011.
For more informations : leRÉCI(F) – Fournier, Richard (in french)
Richard Fournier, haikist
Intellectual initiation :
Sociologist, his constant interest in philosophy includes Buddhism. Poet, he attended the classics (Bashô, Buson, Issa, Shiki, Ryokan).
Practical initiation :
(Haïku Québec, 2005)
Under the direction of Abigail Friedman, American diplomat who spent three years in Japan, speaks Japanese, and was a pupil of the master haidjin Kuroda Momoko.
---
Matsu Take Ensemble
The only Japanese chamber music ensemble in Montréal, Québec.
Since 1997, Emiko Toguchi, Michel Dubeau and Bruno Deschênes have been dedicating themselves to the promulgation of Japanese music in Québec. Emiko Toguchi plays the koto, the Japanese table zither, with its harplike sound. Michel Dubeau and Bruno Deschênes play the shakuhachi, the well-known Japanese bamboo flute, traditionnally played by Japanese Zen Buddhist monks. The three musicians have been playing together since 1997, and have created the Matsu Take ensemble in 2002. The fourth member of the ensemble is Kayo Yasuhara, who joined the group in the Spring of 2006. She has a training in theater (Noh and Kabuki), traditional dance and Japanese percussion. Since the spring of 2008, the Matsu Take ensemble has a new member: percussionnist Ignatius Kim, who has been a member of Montreal-based Japanese taiko ensemble Arashi Daiko.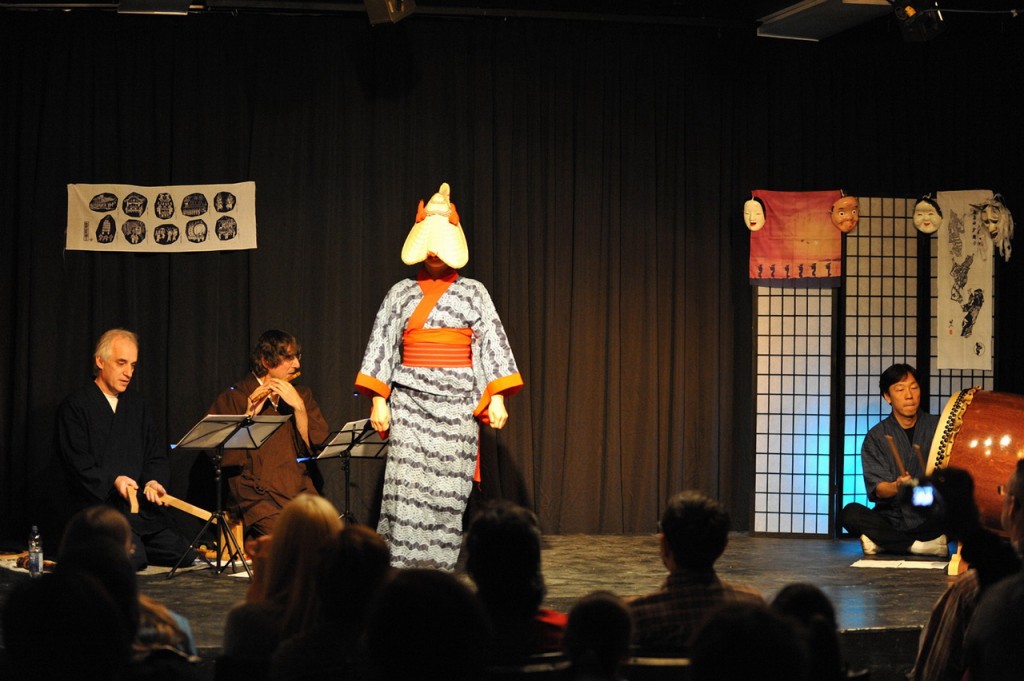 These musicians are performing Japanese chamber classical and contemporary music, as well as folk songs. Japanese classical music has a typically Buddhist character. It is even considered by many as a meditation music, especially the solo repertory of the shakuhachi, which is originally one of meditation music. Japanese music has a profound serenity, while deeply linked to nature and spirituality.
The repertory of the ensemble presents includes classical pieces in solo, duo and trio, some of which are more than 250 years old, well-known folk songs, among which one is more than 1,200 years old, geisha songs, contemporary pieces, as well as their own arrangements and compositions. Music lovers will recognize typically oriental melodies. The ensemble shows the great diversity of Japanese music.
The name "Matsu Take" means pine and bamboo, two of the most significant trees in Japanese symbolism and mythology.
Sur le Web :
http://www.musis.ca
http://matsu-take.bandcamp.com
http://www.youtube.com/results?search_query=matsu+take+ensemble&aq=f
http://radio3.cbc.ca/#/bands/Ensemble-Matsu-Take
---
Danse butô
Présenté par Mario Veillette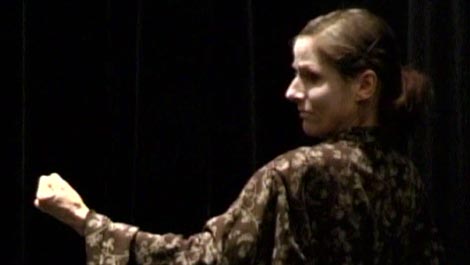 Le butô est une danse contemporaine d'origine japonaise, mise au point au début des années 1960 par Tatsumi Hijikata (1928-1986) et Kazuo Ohno (1906-2010), deux artistes de la danse. Cette danse est basée sur l'improvisation gestuelle et l'utilisation de l'imagerie comme source d'inspiration. Le butô vise à développer le rapport intime du danseur avec son monde intérieur, forgé de pulsions et de forces vitales, afin que celui-ci devienne la base du mouvement dansé. Au Japon, il est désigné sous le nom de Ankoku Butoh (danse des ténèbres). Il y est encore pratiqué, mais souvent de manière underground. Arrivé en Occident au début des années 1980, le butô est maintenant répandu à travers le monde, pratiqué autant en Allemagne qu'au Brésil, en Norvège qu'en Israël et au Québec. Le butô fait l'objet de nombreux stages d'apprentissages et de Festivals internationaux et reste toujours un peu indéfinissable car il existe autant de formes de butô qu'il existe de praticiens.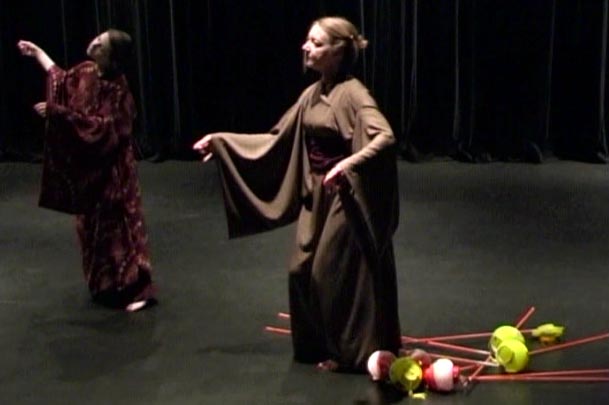 Au contact de thèmes suggérés par des mots ou des images, le praticien du butô joue sur différents registres du vivant (végétal, animal, humain) mais aussi du minéral. S'ouvrent alors pour le danseur de nouveaux paysages, ou horizons gestuels, qu'il développe à l'intérieur même du processus d'élaboration des formes. Le danseur (butôka) y est présent, en état de conscience occasionnellement modifiée, allant quelquefois jusqu'à l'épuisement. Le mouvement est varié, souvent lent, parfois extrêmement lent, comme un questionnement adressé aux impressions profondes. Cette danse de vie, impliquant de façon intrinsèque la reconnaissance de la mort, trouve sa mouvance parmi les mémoires enfouies dans la chair, qu'elles soient infantiles, matricielles, ancestrales ou culturelles.
---
L'Association de Chado Urasenke Tankokai de Québec
Cérémonie du thé
L'Association de Chadô Urasenke Tankôkai de Québec a obtenu sa reconnaissance officielle en tant que 107e association au monde de la part du Grand Maître de l'école Urasenke à Kyoto au Japon. L'école Urasenke est représentée dans 35 pays sur tous les continents. Notre club de cérémonie du thé de Québec organise des démonstrations depuis 1987 dans divers lieux publics tels que des universités, musées, bibliothèques et plusieurs festivals culturels. Notre but est la diffusion de cet art japonais.

La cérémonie du thé
Dans le monde entier, le thé a une vaste popularité, mais aucun pays ne possède autant de richesse culturelle sur le thé que le Japon. Au Japon la manière dont on prépare un bol de thé a été particulièrement raffinée par le développement culturel et esthétique.
Quand on est invité à goûter un bol de thé vert, les invités se réunissent dans une pièce conçue pour la Cérémonie du thé; ils ont non seulement la joie de se réunir, mais aussi de se détendre et d'exclure les soucis quotidiens. C'est l'hôte qui prépare lui-même les lieux par un nettoyage total; il met une calligraphie, prépare de petits repas pour l'agrément des invités selon les occasions. Pour réaliser cette sorte de réunions, il faut être initié et connaître la discipline du Chado, terme qui signifie la voie du Thé. Le Chado est un terme relativement récent puisqu'il est apparu au cours du 16e siècle. Cette manière de boire le thé vert en poudre fut transmise par un moine zen revenu de Chine au 12e siècle. À cette époque-là, le thé était considéré comme un stimulant pour l'étude et la pratique religieuse.
À partir de là, plusieurs maîtres contribuèrent au développement culturel japonais grâce au Chado. Parmi ceux-ci, Sen Rikyu (1522-1591) accomplit une synthèse des différentes manières de boire le thé avec un grand génie esthétique et une dévotion remarquable pour l'accomplissement du Chado. Le Chado est conçu comme un mode de vie, aboutissant à une véritable œuvre d'art, contribuant au développement artisanal du Japon, mais aussi faisant évoluer la manière dont on vivait dans la vie quotidienne.
Quatre caractères, Wa, Kei, Sei, Jaku, donnent l'esprit fondamental du Chado. Ces caractères furent désignés par Sen Rikyu. Wa signifie l'harmonie, harmonie entre l'hôte et l'invité, harmonie avec la saison, harmonie des ustensiles. Kei signifie le respect qui naît dans les sentiments de chacun et aussi vis-à-vis des objets. Sei exprime la pureté, l'honnêteté et la sérénité du cœur. Enfin, Jaku signifie l'état d'esprit, que l'on pourrait traduire par bonheur et la paix du cœur dès lors qu'ont été réalisés Wa, Kei et Sei.
Les moines qui apportèrent le thé établirent les bases spirituelles du Chado, à savoir: poursuite de la réalité et du sens de la vie par une recherche fondamentale de soi, le dépassement du Bouddhisme zen qui donne une aisance psychologique au maître de thé pour développer l'esthétique du Chado. Le Chado n'est pas seulement une méthode de préparation du thé, c'est aussi l'art de fabriquer des ustensiles, la connaissance profonde des arts et de la littérature, de l'architecture, de la construction des maisons de thé, de l'art des jardins, et de bien d'autres domaines encore.
Maintenant que les progrès modernes et la mécanisation évitent à l'homme les tâches les plus rudes, le temps et l'énergie pris pour la préparation d'un bol de thé pourraient paraître inutiles. Mais une tasse de thé préparée suivant les principes du Chado est un rituel destiné à rétablir la tranquillité intérieure qui est un besoin fondamental de l'homme. C'est un rituel de simplicité et de sobriété dans lequel chacun peut trouver « la paix d'un bol de thé ».
---
Sabrina Cloutier
Mltidisciplinary artist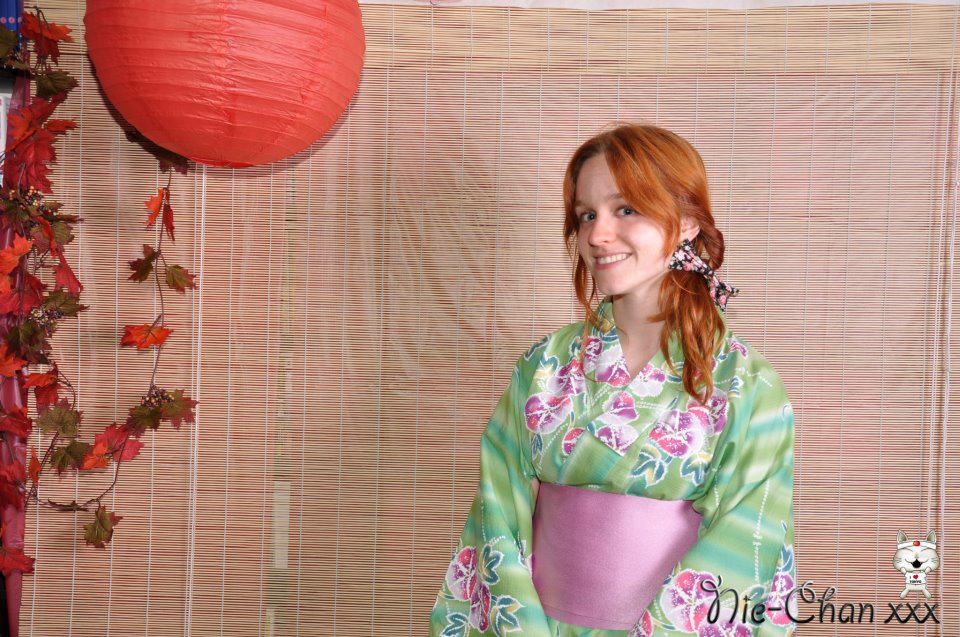 Sabrina Cloutier is a multidisciplinary artist who mixes fire breathing, oriental dancing and theatrical performances. After practicing theater and baladi for a couple of years, Sabrina managed to add fire breathing and contact juggling to her skill set. She then became fascinated by Japanese culture and decided to add this eastern flavour to her performances as well. Stage has been a passion for her for the last 11 years, showing no signs of stopping anytime soon and blending into it her many other passions along the way.
---
Charles-Henri Bouchard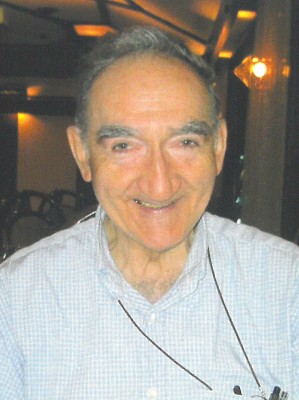 Né à Ste-Anne de Beaupré en 1930, cours classique au séminaire Saint Alphonse, entrée chez les Rédemptoristes en 1950, BA es arts, de l'Université Laval, en 1952, ordination sacerdotale en 1956. Missionnaire au Japon en 1958, MA en sciences religieuses en 1966, de l'Université Saint-Paul, Ottawa. Curé de plusieurs paroisses, directeur de maternelle, membre de la Commission Épiscopale Oecuménique pendant 17 ans, chargé de formation des séminaristes rédemptoristes pendant 8 ans, a écrit quelques articles sur la pastorale. Retour au pays en 2004. depuis ce temps il travaille à la pastorale du sanctuaire de Ste-Anne de Beaupré, et prépare un essai sur la culture de ce pays et la présentation de l'évangile dans un pays bouddhiste. Il animera le panel "Quelle est l'attitude spirituelle qui anime cette riche culture?" le dimanche, de 17h à 18h!