Hello everyone!
Yes, Nadeshicon ended … I hope that you all had fun during this weekend. For us, we have done the best for you! We can now rest and soon start to arrange everything for 2014! (Yes, it starts early!) We hope you had a wonderful time and a colorful festival!
Whether you're a festival, volunteers, panelists, guests, media, merchants, artisans, and other staff, we thank all of you, since you are the craftsmen known Nadeshicon 2013 as a big success!
See you on April 2014!
Team Nadeshicon 2013
Hello everybody!
Without further ado here's the 2013 schedule of the festival!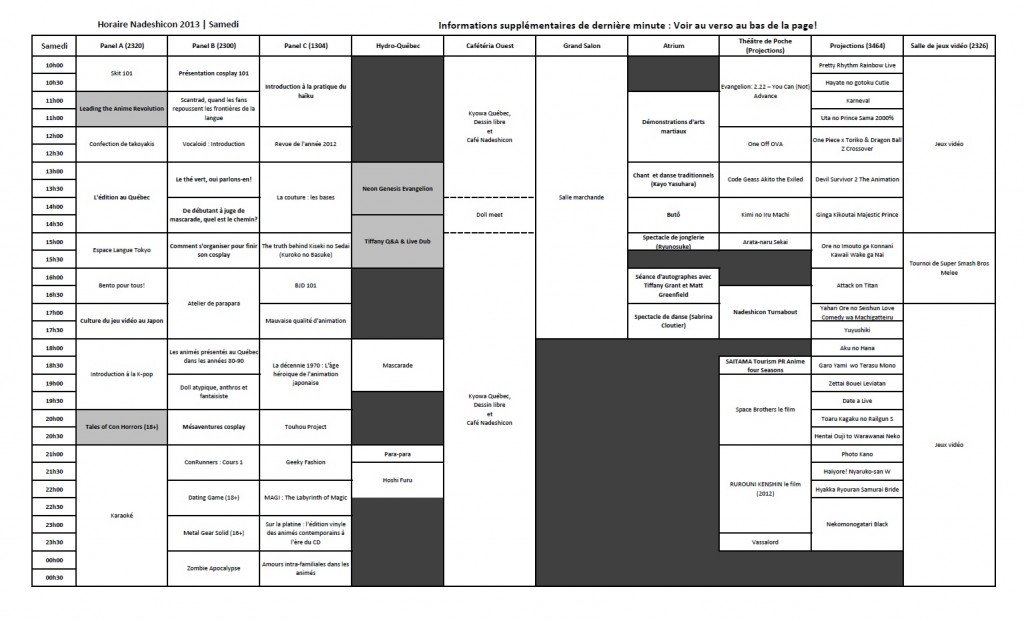 Click on the image to download the PDF file!
Nadeshicon is in less then a month!!!!
Do you feel the stress, the exhaustion and the lack of energy of our crew? That's because they're killing themselves to make you a great quality festival!!
And you won't be bored at Nadeshicon 2013 because we worked hard to fill our schedule with a lot of fun activities and interesting guests. So let's talk about it!
Our web site has been updated with our new guests. You will see them at Nadeshicon 2013, April 26 to 28th. Here a brief list of them :
Guests of honor : Matt Greenfield and Tiffany Grant
Special guests : Mel Gosselin, HOSHI★FURU, Love Cosplay Magazine, Nadeshicon Turnabout
Cosplay guests : Armurita, Melissa « Jusdepomme » Langlois, Karine « FrenzyWonder » Pasquier
Cultural guests : Komachi Montreal, Ryunosuke Yamazumi, Arisa Meguro, Richard Fournier, Matsu Take Ensemble, Danse butô, Chado Urasenke Tankokai du Québec, Sabrina Cloutier
Still more to come!
Let's all have fun on April 26 to 18th, for the third edition of Nadeshicon!
Nadeshicon 2013's Team
Dès maintenant, et ce jusqu'au 31 mars 2013 23h59, vous pouvez acheter vos badges pour Nadeshicon 2013 en prévente.
Voici les prix pour ces badges :
Admission régulière : 10$
Admission enfant (12 ans et moins) : Gratuit, si accompagné d'un adulte (n'achetez pas de badges en prévente)
Les badges en prévente sont à 10$, soit le même prix qu'à l'entrée. Cependant, en achetant votre badge en prévente, vous avez la chance d'obtenir gratuitement un calendrier 2013-2014, avec les photos de nos cosplayeurs! Ne manquez pas cette occasion!
Pour acheter vos badges : https://www.nadeshicon.ca/prevente/
Au plaisir de vous y avoir en avril!
—————————————————————————–
From now on, and until March 31st 2013 11:59PM, you will be able to buy you Nadeshicon 2013 badges in pre-sale.
Here is the price of these badges:
Regular admission: 10$
Kid admission (12 years old and under): Free (if accompanied by an adult)
The pre-ordered badges are 10$, the same price as the one bought the day of the festival. However, by buying your badge in pre-sale, you receive a 2013-2014 calendar with pictures of cosplayers from the province of Quebec. Don't miss this chance!
To purchase your badge : https://www.nadeshicon.ca/en/pre-order/
We hope to see you in April!
It is time for the great unveiling of the special guests of Nadeshicon 2013!
For this third edition of Nadeshicon, we'll have Tiffany Grant and Matt Greenfield, directly from the United States!
This couple, who is very involved in the anime, either in scripts, dubbing, production or distribution, will share with us their experience and passion. Don't miss it!
Matt Greenfield
Dominant figure in the anime industry and co-founder of ADV FILMS!
After 20+ years working in the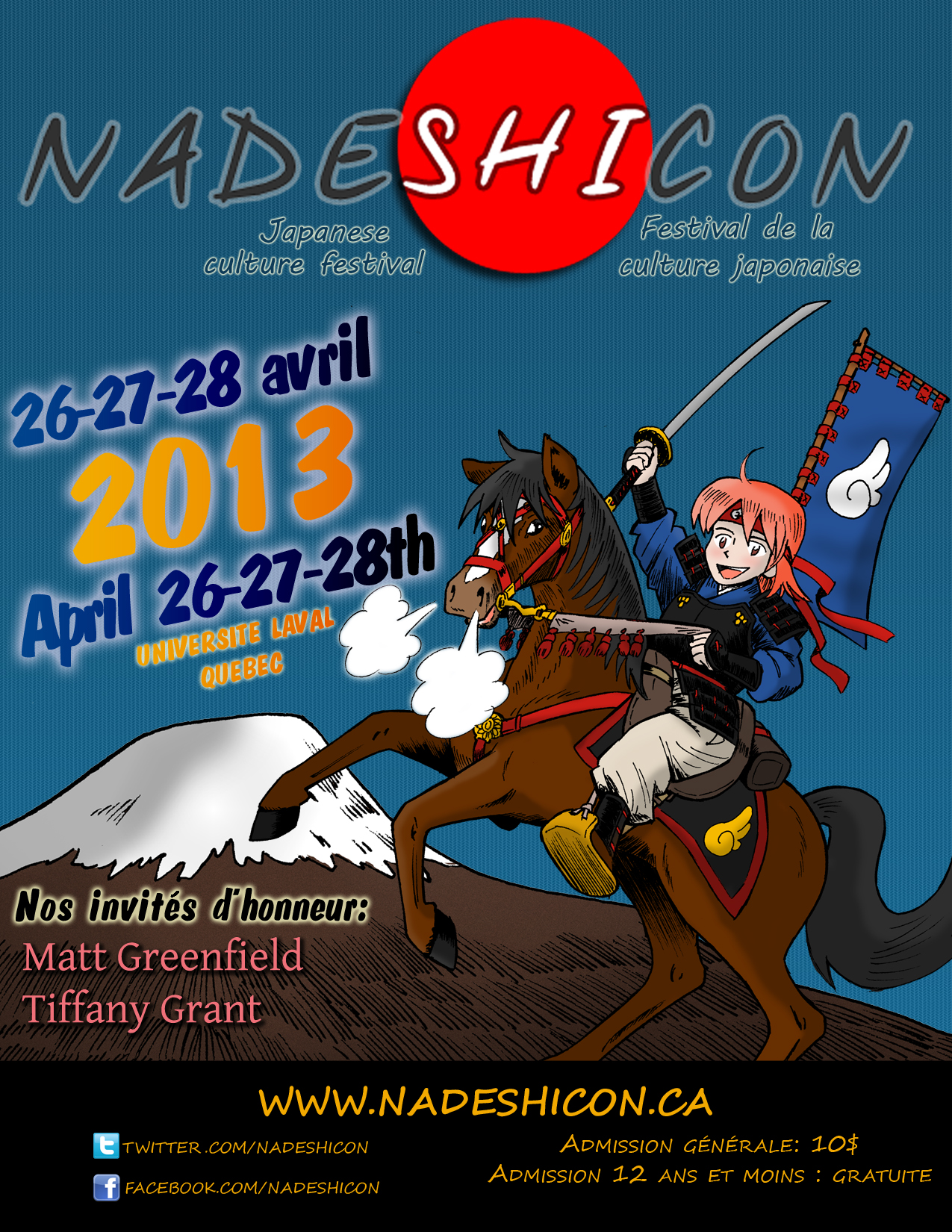 anime industry, Matt has 1000+ production credits on shows distributed internationally by the likes of ADV Films, Anime Network, FUNimation, Madman Entertainment, Media Blasters and Sentai Filmworks.
Some highlights: EVANGELION, BATTLE ANGEL, EXCEL SAGA, GANTZ, GODANNAR, MACROSS, NADESICO, NOIR, SPRIGGAN, RAHXEPHON, TEARS TO TIARA and INFINITE STRATOS
Tiffany Grant
American Renowed Voice Actress
Best known as Asuka from EVANGELION, Tiffany's 19 years in anime includes 1000+ voice credits like NOIR, CHRONO CRUSADE, AZUMANGA DAIOH, FULL METAL ALCHEMIST and INFINITE STRATOS.  Tiffany has written 200+ scripts for shows like GODANNAR and THE WALLFLOWER.
Other acting work includes video games, stage, commercials and film.
Are you a Japanese Fashionista?
Have you a japanese inspired style? Would you be interested in participating at Nadeshicon's Fashion Show?
If you do, send your adress, phone number and at least one (1) photo of you, wearing your special style. Send everything to [email protected] (Manuella Coulombe).
(Take note that some style are already took, it is possible that we cannot accept your application.)
Hi everyone!
A public meeting of Nadeshicon 2013 Executive Committee will be held Wednesday October 24 at 18:30. You are all invited to come and give your ideas, opinions and contribute to the development of what Nadeshicon 2013 will be!
We'll discuss about Nadeshicon's preparations, guests, CosplayCon and other related subjects. We'll talk about the "Kermesse" if we have time.
Be there!
Where : Pavillon Desjardins – 2334 (You can go to the Club Animé's room (2216) and we'll redirect you)
When : Wednesday, October 24th at 18:30
Alexandra Jetté,
Communications Manager, Nadeshicon 2013, Club Animé Québec 2012-2013
Nadeshicon, the Japanese cultural festival of Quebec City
You've got to be there in April!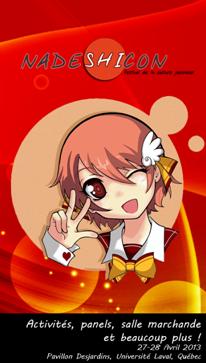 To all lovers of Japanese culture! THE spring event of 2013 is the Nadeshicon convention. During this 4th edition, members of the Quebec City Anime Club (official Laval University student association since 1992) will organize a variety of activities to share their love of Japanese culture with the Quebec community. The convention features: martial arts and traditional dance demonstrations, tastings, and calligraphy, as well as anime screenings, cosplay, a masquerade, artists and merchandise… something for every taste!
This year we are pleased to announce guests and exciting speakers who will share special details on their art and experience, among which Mel Gosselin, author of Cétacia, who will be with us to talk about his second volume. Fans of Japanese fashion will be entertained with a fashion show displaying the history of fashion in Japan from traditional to subculture fashion (such as Harajuku). Next on the fashion program is the Putré-Fashion line, a line of an alternative fashion designer from Quebec. As a bonus, genuine blacksmith Pierre Nadeau will show off his skills. Many guests at previous editions will return, including Richard Fournier, a haiku poet, Kayo Yasuhara, performer of traditional dance, juggler Ryunosuke Yamazumi and last but not least Amitié Québec-Japon (Quebec-Japan Friendship).
Persons wanting to share their special talents and skills will have the opportunity to do so. If you would like to set up a session, whether it be cultural or mainstream, you can add yourself to the list of participants. More information is provided on the Nadeshicon website (
www.nadeshicon.ca
), or contact the person responsible for panels and workshops, Olivier Trépanier (
[email protected]
).
Venue and date: Laval University, April 26, 2013, in the atrium of Pavilion Charles-De Koninck, and 27-28 April at Pavilion Alphonse-Desjardins/Maurice-Pollack.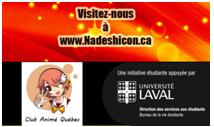 Fees: $ 10 per person for the whole weekend.
Access to the movie theaters is free.
For more information: