Nadeshicon, the Japanese cultural festival of Quebec City
You've got to be there in April!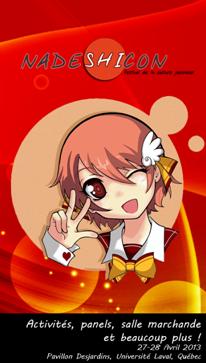 To all lovers of Japanese culture! THE spring event of 2013 is the Nadeshicon convention. During this 4th edition, members of the Quebec City Anime Club (official Laval University student association since 1992) will organize a variety of activities to share their love of Japanese culture with the Quebec community. The convention features: martial arts and traditional dance demonstrations, tastings, and calligraphy, as well as anime screenings, cosplay, a masquerade, artists and merchandise… something for every taste!
This year we are pleased to announce guests and exciting speakers who will share special details on their art and experience, among which Mel Gosselin, author of Cétacia, who will be with us to talk about his second volume. Fans of Japanese fashion will be entertained with a fashion show displaying the history of fashion in Japan from traditional to subculture fashion (such as Harajuku). Next on the fashion program is the Putré-Fashion line, a line of an alternative fashion designer from Quebec. As a bonus, genuine blacksmith Pierre Nadeau will show off his skills. Many guests at previous editions will return, including Richard Fournier, a haiku poet, Kayo Yasuhara, performer of traditional dance, juggler Ryunosuke Yamazumi and last but not least Amitié Québec-Japon (Quebec-Japan Friendship).
Persons wanting to share their special talents and skills will have the opportunity to do so. If you would like to set up a session, whether it be cultural or mainstream, you can add yourself to the list of participants. More information is provided on the Nadeshicon website (
www.nadeshicon.ca
), or contact the person responsible for panels and workshops, Olivier Trépanier (
[email protected]
).
Venue and date: Laval University, April 26, 2013, in the atrium of Pavilion Charles-De Koninck, and 27-28 April at Pavilion Alphonse-Desjardins/Maurice-Pollack.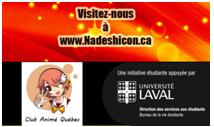 Fees: $ 10 per person for the whole weekend.
Access to the movie theaters is free.
For more information: